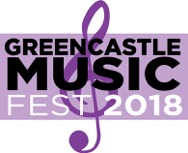 Greencastle, IN – The annual Greencastle Music Fest hosted by Almost Home Restaurant is set to take place in downtown Greencastle on Saturday, August 25, 2018 from 3 to 11pm.
This year is set to be bigger and better with a larger stage, enhanced sound system, a spectacular light show and new logo. Gail Smith, owner of Almost Home Restaurant and event organizer shared, "We are working to bring in a talented lineup and many fun activities that will make this year's Music Fest the best one yet."
"With community support and a minimal admission charge we were able to provide a spectacular event while giving back to Main Street Greencastle.  I can't think of a better way to raise money than celebrating the community, and showing Greencastle off to visitors from around the state," said Smith.
Stay up to date on Greencastle Music Fest details like sponsors, entertainment and events by visiting the website at www.greencastlemusicfest.com or the event's Facebook page here https://www.facebook.com/greencastlemusicfest/. 
About Greencastle Music Fest and Almost Home
Greencastle Music Fest is a community music gathering that has been taking place in the streets of Greencastle, Indiana for over 8 years. The event began as an anniversary celebration for local Greencastle restaurant, Almost Home, and is still hosted by the restaurant today. Almost Home is a restaurant located in Greencastle, Indiana and has been a staple in the community for 28 years. True to their name, the food served is comfort food at its finest, making customers feel as if they are "Almost Home".  In addition to the restaurant they have Swizzle Stick Bar, offer on-site private parties and cater many offsite events throughout the year.  For more information about them, please visit their website at www.almosthomerestaurant.com.