There is nothing like the finale of the Covered Bridge Festival to get us excited about the changing seasons and the fact that the holidays are right around the corner.
The holidays can bring us joy, and some occasional stress in getting everything ready for family gatherings, office parties and friendly get-togethers. Thanksgiving and Christmas will be here before we know it, and they often sneak up on even the most detailed of planners.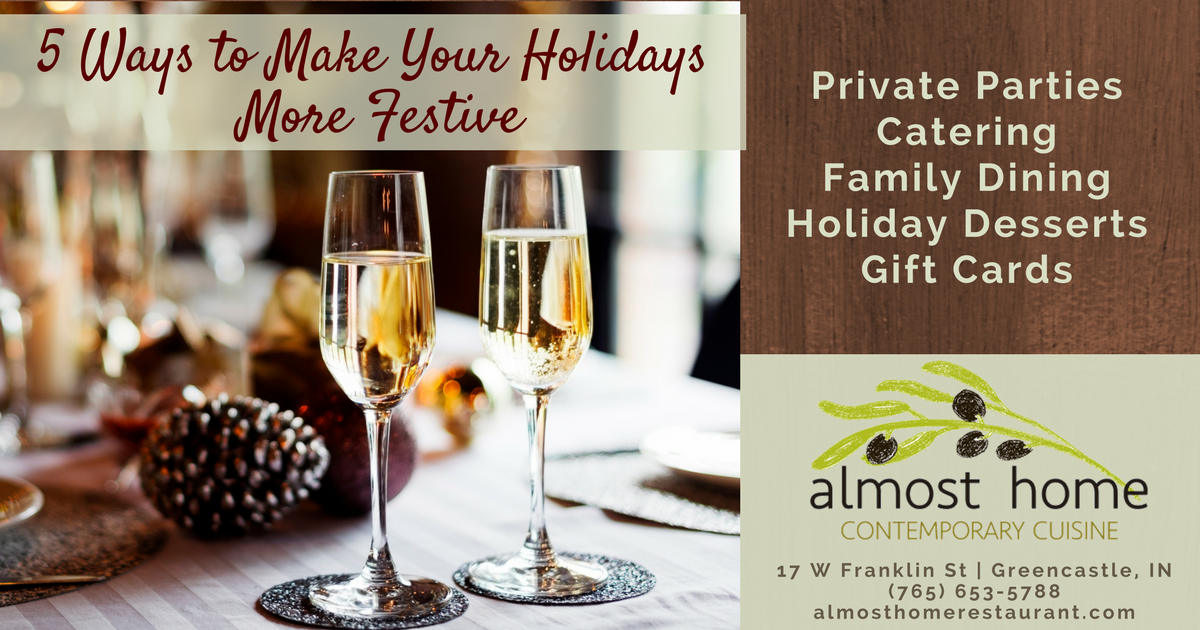 While you may be out there enjoying the fabulous fall weather of late, we are already gearing up for the festivities. We're not quite dreaming of a white Christmas just yet, we're still recovering from the Cub's loss in the playoffs. For now though, let's get back to how Almost Home can help you plan for the holidays.
Dining at Almost Home
Throughout the Holiday Season, you can enjoy our dining room filled with several trees and decorations that make the perfect setting for your family dinner. Leave the cooking to us and celebrate with friends and family over a wonderful meal from our newest menu.
We are accepting reservations now. While we are closed on Thanksgiving, Christmas Eve and Christmas Day, we look forward to making your Holiday season memorable with good food in a warm, inviting atmosphere.
Private Parties
Avoid the stress of getting your house or office ready for a big holiday gathering. You can host your party in our restaurant or in our Emerald Room above the restaurant. These spaces are ideal for large families, offices or staff parties. We take care of everything for you from planning the menu, special cocktails, inviting decorations and more.  Let us work with you to create the perfect seasonal ambiance for your party.
Catering (to groups of any size!)
Already have a great location for your gathering but want to avoid all of the prepping, cooking and cleaning? Let us bring the food, and even bartenders, to you with our extensive catering options. We'd love to help you create a menu your family or guests will enjoy. Spend more time visiting and making memories! Get more catering & menu information here.
Holiday Desserts
If you've ever tried one (or more) of our decadent desserts, you know they are one of our specialties. Wow your family, friends or coworkers with a homemade dessert from Almost Home.
We do ask for 2 days advance notice for your holiday orders. And, we often have one or two ready to go in our case. Keep it simple and delicious with Almost Home and one of our mouthwatering desserts.
Giving the experience of Almost Home to your loved ones is a great gift idea. We're sure that your coworkers or other colleagues and neighbors would enjoy a gift card too. You can even purchase gift cards online, in any amount, and we'll send out for you with a handwritten note.
The Holidays Will Be Here Before You Know It.
From gift cards and homemade desserts to private events at our place or yours, or even stopping in while you're doing your holiday shopping for cold one at the Swizzle Stick Bar, we look forward to helping you celebrate the Holiday season.
To make reservations for your gathering, or talk with us about catering your event, call Almost Home Restaurant at (765) 653-5788 or contact us today. Our availability is limited to a first come first serve basis, so call now and get your holiday schedule set with Almost Home.