Get Homemade Holiday Desserts, Without the Mess
At Almost Home, we love being able to spread the love and happiness that comes along with sharing food with one another. Providing you and your family and friends with the best possible dining experience is one of our top priorities, and it becomes even more so during the holiday season.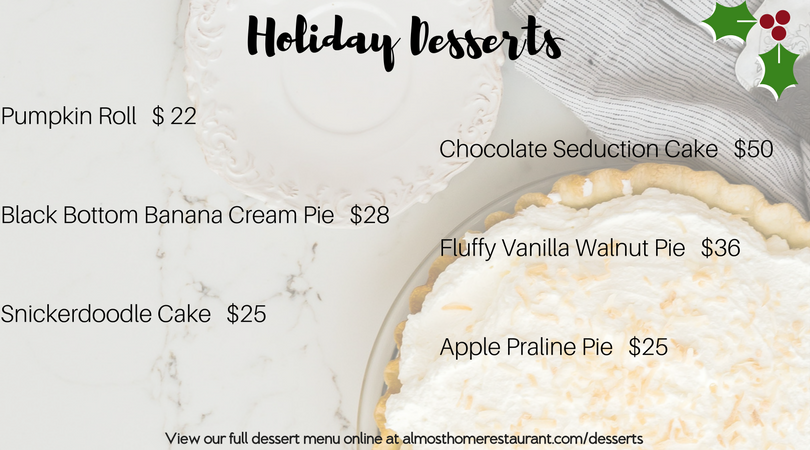 When it comes to the holidays, we know how hectic things can be. You've got to plan parties, purchase presents, and decorate the house. Luckily, though, we're here for you. And this month, while you've got enough on your plate, let us handle dessert!
Homemade goodness with so much decadence, it may be hard to choose. But that's okay. You can have more than one! We've put together a list of the perfect pies and cakes for your holiday dinner, like chocolate seduction cake and apple praline pie. If none of these strike your fancy, our entire dessert menu can be found here.
Special Holiday Dessert Menu Items
 Pumpkin Roll   $ 22
Black Bottom Banana Cream Pie   $28
Snickerdoodle Cake   $25
Chocolate Seduction Cake   $50
Fluffy Vanilla Walnut Pie   $36
Apple Praline Pie   $25
Desserts Made from Scratch, from Our Kitchen to Your Table
Our desserts are made from scratch, but that's because we've got the time! And while we know you'd bake a homemade cake or pie if you could, we're happy to help you out.  We'd be honored to provide you and your loved ones with freshly prepared desserts. Whether it's a work party, an event with friends, or Christmas dinner, please allow us to assist you in making sure you end your meal the right way, with mouthwatering homemade desserts.
End Every Meal with a Treat
And, you don't have to order desserts just for the holidays. We have a huge menu of homemade dessert items you can order ahead for any occasion – birthday's, bridal showers, office celebrations, retirement parties and so much more.
Order Ahead
Of course, be sure to give us enough notice—a minimum of 24 hours, please —to make, bake, and create your dessert. Let us know how we can help you this season and call us at (765) 653-5788 or email us today to order your homemade sweets.