Did You Know? We Offer Special Event, Wedding & Corporate Catering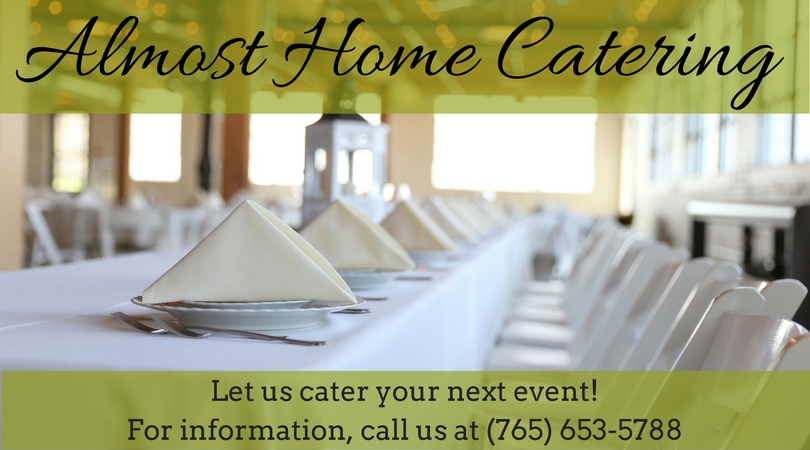 Here at Almost Home Restaurant, we love our connection to the community of Greencastle. Whether it's feeding families within the restaurant or providing a space for people to come together, our love for food and our passion for people are a great mix. Which brings us to one of our favorite things to do: catering events!
Whether hosting a gathering in our restaurant, in the Emerald Room above it, or at your location of choice, our staff is here to handle set up, cooking, and clean up for your party or event.
In fact, we have a Catering Menu that can be found here, which is ready for your viewing and choosing. If the options provided don't speak to you, let us know. Chef-inspired appetizers are available at your request, and we'd love to create custom desserts for your event as well. From box lunches to buffet options, we're ready to provide you with the best possible dishes for your event.
What Types of Events Do We Cater?
Birthday parties
Girls night out
Tea parties for younger ladies
Intimate wedding receptions
Bridal showers, including gender reveal parties
Baby Showers
Rehearsal Dinners
Family reunions
Graduation parties
Holiday parties
Corporate parties
Company meetings
Retirement parties
Team dinners
Just because wine dinners
And any other event you can think of!
We always enjoy working with our patrons to create a menu that fits their special event and theme. Whatever your ideas and your vision for your event, we're ready to make it happen.
Would You Like A Drink With That?
In addition to catering your event with great food and service, we also have a catering liquor license. Want to offer an open bar option for serving alcoholic beverages? Look no further. Let our bartenders serve you and your guests. We can even help you create special cocktails (or mocktails) for your event.
Whether you're looking for a special event caterer, or a wonderful place to host your event, Almost Home Restaurant is here awaiting your call at (765) 653-5788 or contact us today.
Feel free to download our catering menu here.